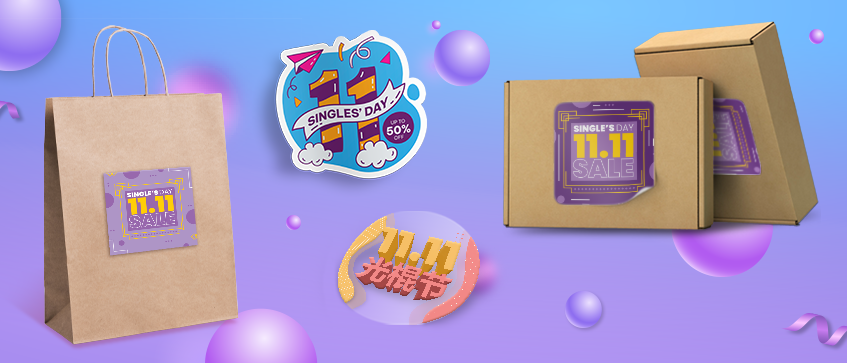 So you're thinking of taking advantage of the 11.11 sale? I'm not surprised because this is an excellent time to buy things! People search for shopping guides and lists during these sales, so they can find deals according to their needs and budget . They also look online using voucher codes or promotional discount codes before midnight ends prematurely at a discounted rate - what better way than saving some money while doing your Christmas and New Year Shopping?!
11.11 is a huge sale event, and that means there are going to be some great deals for shoppers out in the market! So what can marketers do? If want your brand or product promoted, here are some ideas you might want to try:
Custom Stickers to Promote Hot Deals
Custom stickers are an easy way to make your store stand out this 11th of November. Make it big and bold with sale messages like "11/11 Deals Now Through Thursday!" Put these on windows, walls or give stickers as freebies for customers who may not have visited before - they'll thank you later! If that isn't enough then include QR codes so people can scan them easily from anywhere in sight.
Sales Announcement on Flyers
Keep your customers engaged in the weeks before 11.11 by displaying flyers with all your current products, not only e-commerce store products but also offline business such as food or clothing! This will create awareness long before 11th of November when people are looking for discounts on everything at this point--let them have flexibility paying online and picking up their purchase from nearest retail stores giving coupons can attract visitors who may come back again after end date has passed
Giving Customers Gift Vouchers
A gift voucher or coupon code is one of the most popular items at this event. You can get up to 70% off your purchase with just a few clicks! You should always keep an eye out online too; remember that deal hunters love sharing tips with other shoppers as well as what great finds they've stumbled upon while browsing through various stores' websites which might interest you.
The 11:11 marketing ideas for this year are more important than ever! Increase customer engagement by implementing one (or all) of these amazing strategies now before it's too late, as we enter an era where companies will sign up in droves just like last time around with Black Friday sales campaigns that offer exclusive deals on products only available during those days--and they'll take place every day from tomorrow onwards until November 30th at midnight. Don't miss out; act fast while there's still time.
If you already have everything planned out nicely! Get started now while there's still time. We can't wait to celebrate this event with you! This year, Hellosticker will offer you an 11% OFF until 8th of November 2021. Don't forget to include the promo code provided in the banner of the main page during the checkout!