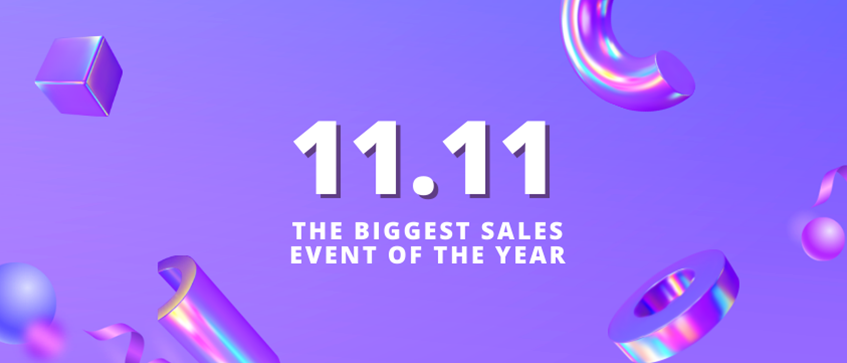 The phenomenon of "Singles Day" is actually relatively new - what started out in 1993 as an anti-Valentine's day activity among university students by taking the whole day off from romantic relationships has now turned into world largest shopping event that could rival Black Friday sales in America or Cyber Monday online shopping spree in UK.
The 11.11 Singles Day Shopping Festival was created by Chinese e-commerce giant Alibaba in 2009 as a special day for young people to celebrate their singledom. And since then, it's grown astronomically - it's now the world's largest online shopping festival, shattering one record after another year after year.
In 2014, Alibaba made a record of $9.3 billion in only 24 hours on Singles Day! And it reached over $14.3 billion in 2015 and jumped further to a whopping $17.8 billion last year - a staggering 30% growth from the previous year .
This year's sales figures are expected to break new records once again with an estimated total of US$25 billion , out-pacing America's biggest online shopping event, Black Friday that raked in US$5.03 billion . In fact, there is even speculation that this year's China's 11/11 will be the world's largest retail event ever , beating even Thanksgiving and Cyber Monday combined together.
Why is the 11.11 Sale so Important ?
The most important factor in 11.11 sales is that it gives customers the opportunity to bring out their unused coupons and receive great savings on their purchase, helping them make ends meet in these tough economic times. Many customers are more willing to spend when they can save money at the same time. Also, there is a surge in consumer confidence when everyone comes together to buy goods.
Many consumers purchase more items on 11.11 and can save up more money because they receive certain discounts that allow them to purchase much more within their budgeted amount of spending cash. Some people wait until midnight to begin shopping so they can get the best deals at deep discounts before stores close for the day.
With the advancement of online payment services, there are now more options for people to easily purchase items using credit cards, debit cards or even through electronic bank transfer. It's much easier for customers to pay on 11.11 day compared to Black Friday where they have to line up in long queues just so they can get their hands on some good deals.
Besides shopping, what else can you participate in during this special day?
Many advertisers also offer special coupons and promotional codes or rebates that allow consumers further discounts or savings on items which entice them to shop longer than usual. They will spend some time scrolling through ads just trying to find a coupon that works best for them! Others simply enjoy being part of the group - celebrating the 11.11 event online with their friends and 'window shopping' together even if they aren't planning to make any purchases this year.
The 11.11 Singles Day Shopping Festival also gives manufacturers and retailers a chance to interact with their customers in the most direct way possible - by giving them discounts, they are encouraging customers to buy more of their product/s. This is because there tend to be fewer discounts on popular products which means that consumers will have no choice but to purchase these items if they really want or need it.
On top of all these, 11.11 shopping provides opportunities for e-commerce stores to attract new customers through special deals which are readily seen online. It is an opportunity for businesses to introduce themselves and their products/services to the public who might not normally shop online at other times of the year.
Fear not, my friends! There is still time to prepare something exciting for potential consumers. We have just a few days until November 11th, but there is still hope for us to create something wonderful to entice potential customers. Remember, though, that the success of your 11.11 Global Shopping Festival marketing plan is dependent on your originality and efforts!

We can help you print your custom stickers before 11.11 begins. Get your printed materials ready with Hellosticker and plan out your marketing wisely. We have a special discount of 11% OFF for various goods from October 25th to November 8th this year.